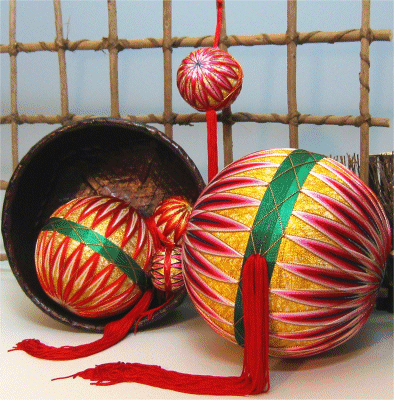 Mari...These colorfully decorated balls above called temari were used as toys not just for children, but adults as well, and were very popular. At the early stage of mari's history, it was only tossed around or hit by hand like a volleyball. Later it was bounced against the hard surface of the floor. Rarely used these days, it has become a decoration. Temari is said to have its origin in kemari (kick ball), which was brought from China and gained popularity among court nobles.
Five different sizes available
Mari Decorative Ball
| | | |
| --- | --- | --- |
| Item # | Size | Price |
| MR1-A | 1.9in(5cm) | US$7.00 |
| MR1-B | 2.3in(6cm) | US$9.00 |
| MR1-C | 3.5in(9cm) | US$16.00 |
| MR1-D | 4.7in(12cm) | US$29.00 |
| MR1-E | 7.1in(18cm) | US$50.00 |
| MR1-F | 9.8in(25cm) | US$150.00 |
Colors and patterns of this item may vary.
If you would like to purchase more than one of a
particular item, please click on "Buy Now" link first and then update the quantity in the shopping cart page.

All prices are in US dollars
For details on payment methods, shipping rates and exchange policy, please click on the information link at the top of the page.
The color of the items in the pictures might slightly
differ from that of the actual items.