Omamori Bukuro (Amulet Pouch)
If you go to a shrine or temple, you will probably see a small building standing next to the main hall. It is called gsamushoh (jimusho for temples) selling fortune items like omikuji (paper fortune) , gomamorih (small portable amulet that often comes in a small colorful cloth pouch), gofudah (a large sized household amulet ), ghamayah (amulet shaped like an arrow ), and gemah (small wooden plaques on which people write their wishes). These are so popular that it is more difficult to find a Japanese person who has never owned any of these. Unfortunately, we are unable to sell you any of the items mentioned above. However, we are delighted to be able to offer our cusomers omamori bukuro (cloth pouch usually omamori is offered in ) so that our customers can keep the items that they like. Please keep in mind that inside of the omamori (cloth pouch) is empty.

Picture of Samusho (shrine office).
Miko (female attendant) selling
lucky charms such as omamori,
ema, ofuda, hamaya and kumade.




Omamori Bukuro (Amulet Pouch)
Item#:OMA1-A, B, C, D, E
Size: (W)1.9X(H)2.9in
(5X7.5cm)
Price:US$5.00 Ema (Wooden Wishing Plaque)
Ema (literaly means picture of a horse) are wooden plaques on which people write their wishes at Shinto shrines or Buddhist temples.They are sold around $5.00 to $10.00 and bear various picutures on the front side---usually picture of a horse, shrine selling the ema, or a zodiac sign of the year.People write their wihses on their ema and hang them on racks situnated near the main hall. In ancient times, real horses were donated because horses were thought be sacred but over time this was changed to wooden plaques bearing a picture of a horse. One theory holds that the most ema are created in the shape of a house (pentagon-shaped) so that they look like the horse is offered with a stable (horsefs house). Some ema even have a roof at the top of the ema to indicate ema represent stables.These days though ema have been created all sorts of shapes (round, square, heart etcc) and pictures depicted on them are very secularized.If you are interested, please come visit Japan and see for yourself!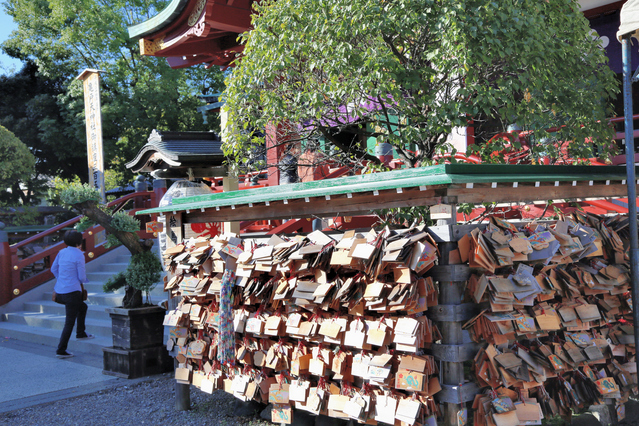 Picture of ema hanging place next to the main hall.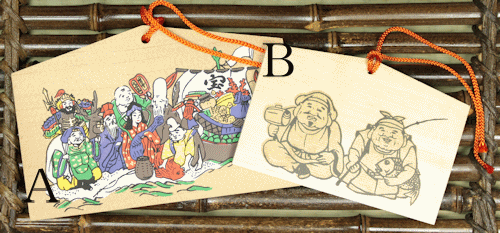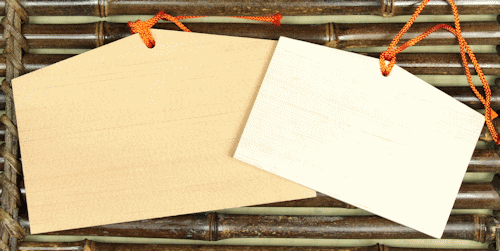 Ema (Wooden Wishing Plaque)
Item#:EMA1-A, B
Size: (W)1.9X(H)2.9in
(5X7.5cm)
(A)Price:US$6.00
(B)Price:US$10.00




If you would like to purchase more than one of a
particular item, please click on "Buy Now" link first and then update the quantity in the shopping cart page.

All prices are in US dollars
For details on payment methods, shipping rates and exchange policy, please click on the information link at the top of the page.
The color of the items in the pictures might slightly
differ from that of the actual items.